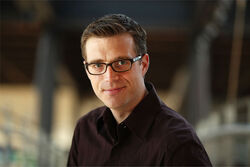 Angus MacLane is a Pixar employee who has worked on every theatrical release since A Bug's Life. Starting as an animator and storyboard artist, he has progressed to directing animator on WALL•E and directed the short films BURN-E and Small Fry. MacLane grew up in Portland, Oregon.[1] He is a LEGO hobbyist and has built and posted online many models,[2] including his CubeDudes and LEGO renditions of several Pixar characters. On February 5, 2015, LEGO Ideas (a subdivision of LEGO that turns fan-built models into official LEGO products) announced that they had chosen his model of WALL•E to be a future official set.[3]
Filmography
Animation Character Developer
Animator
Director
Directing Animator
Supervising Animator
Production Artist
Storyboard Artist
Writer
Actor
References
Ad blocker interference detected!
Wikia is a free-to-use site that makes money from advertising. We have a modified experience for viewers using ad blockers

Wikia is not accessible if you've made further modifications. Remove the custom ad blocker rule(s) and the page will load as expected.