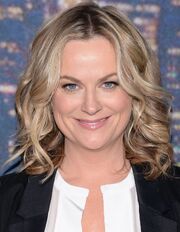 Amy Poehler (born September 16, 1971) is an American actress, voice artist, comedian, director, producer and writer who provided the voice of Joy in the 2015 Pixar animated movie Inside Out.
Trivia
Her ex-husband Will Arnett provided the voice of Horst in Pixar's movie 2007 Ratatouille.
Ad blocker interference detected!
Wikia is a free-to-use site that makes money from advertising. We have a modified experience for viewers using ad blockers

Wikia is not accessible if you've made further modifications. Remove the custom ad blocker rule(s) and the page will load as expected.