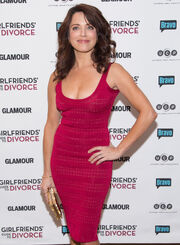 Alanna Ubach (born on October 3. 1975) is an American actress and singer of Puerto Rican and Mexican descent and former student at Le Lycee Francais de Los Angeles. She will be voicing Miguel's great-great grandmother Mama Imelda, from the 2017 Pixar's animated movie, Coco.
Ad blocker interference detected!
Wikia is a free-to-use site that makes money from advertising. We have a modified experience for viewers using ad blockers

Wikia is not accessible if you've made further modifications. Remove the custom ad blocker rule(s) and the page will load as expected.