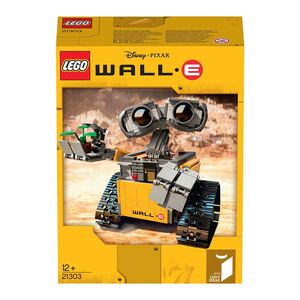 21303 WALL•E
is an
LEGO
Ideas set based on
the Pixar film of the same name
. It includes a 7" model of
WALL•E
.
LEGO.com description
"Build, display and role play with WALL-E!
Construct the LEGO Ideas version of WALL-E with posable neck, adjustable head and arms, gripping hands, opening trunk and rolling tracks. Build a beautifully detailed LEGO version of WALL-E -the last robot left on Earth! Created by Angus MacLane, an animator and director at Pixar Animation Studios, and selected by LEGO Ideas members, the development of this model began alongside the making of the lovable animated character for the classic Pixar feature film. It has taken almost a decade to perfect the LEGO version, which incorporates many authentic WALL-E characteristics, including a posable neck, adjustable head, arms that move up and down and side to side, plus gripping hands and rolling tracks. With a trunk that opens and closes, you can tidy up the planet one pile of garbage at a time! This set also includes a booklet about the designer and the animated Pixar movie.
Move the arms up and down and side to side
Open and close the trunk
Includes a booklet about the designer and the animated Pixar movie
The perfect gift for LEGO and WALL-E fans of all ages
Measures over 7″ (18cm) high, 6″ (16cm) long and 6″ (16cm) wide"
Trivia
LEGO has recalled the set in order to redo the neck articulation.
This is the first LEGO Ideas set to be based on an existing license LEGO already has; in this case, it is Disney.
Gallery
Ad blocker interference detected!
Wikia is a free-to-use site that makes money from advertising. We have a modified experience for viewers using ad blockers

Wikia is not accessible if you've made further modifications. Remove the custom ad blocker rule(s) and the page will load as expected.