Planes
Talk

22
1,901pages on
this wiki
Directed by:
Klay Hall[1]
Written by:
Jeffrey M. Howard[2] (screenplay and story)
John Lasseter (story)
Klay Hall (story)
Release date:
August 9, 2013[3]
Running time:
92 minutes[4]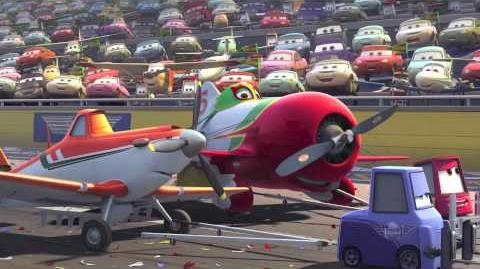 Planes
is a spin-off of
Cars
, and the first film in the
Planes
trilogy.
Pixar Animation Studios
however did not produce the film. Instead, it was produced by
DisneyToon Studios
.
[5]
It was theatrically released on August 9,
2013
.
[3]
[6]
Plot
Dusty Crophopper is a crop duster plane who works at a cornfield and practices aerobatic maneuvers in his spare time, dreaming of becoming a racer. His dreams are scorned by his boss Leadbottom and his forklift friend Dottie. However, he is supported by his fuel truck friend Chug. Dusty and Chug train for qualifiers for the upcoming Wings Across the Globe race. On the night before the qualifiers, Dusty asks an elderly and reclusive navy war plane named Skipper Riley to teach him how to fly well but Skipper refuses. Dusty enters the qualifiers, and although the audience mocks him for being a crop duster, he manages to wow them by his well-practiced flight maneuvers, but comes in 6th place and is the back-up qualifier. A few days later, a representative from the qualifier visits his town looking for Dusty and announces to him that he now placed 5th. He barely makes it into the race due to the qualifier ahead of Dusty used a fuel enhancement ultimately getting disqualified from the race.
Later in the morning, Skipper visits Dusty and tries to talk him out of racing, but when Dusty explains he wants to prove he's more than just a crop duster, Skipper decides to mentor Dusty on his speed and agility. While in the midst of his training, Dusty admits that he has a fear of heights. Despite this, their training continues and when it is complete, Dusty heads off to the meeting of the race at John F. Kennedy Airport where he finds a friend in a crazy but loyal Mexican race-plane named El Chupacabra who eventually falls in love with a beautiful French-Canadian racer named Rochelle, who shows little interest in him. Dusty then makes a rival of the arrogant and villainous 3-time winner plane Ripslinger, who rudely dismisses him as being only a crop duster. Dusty also falls in love with a racer plane named Ishani, who becomes supportive of him. During the first leg of the race from New York to Iceland, Dusty's refusal to fly high causes him to finish in last place ultimately due to him collecting ice on the wings from the freezing ocean spray and his endurance level to cope with the temperature. During the second leg of the race to Germany, Dusty shows good sportsmanship by saving another racer, Bulldog from crashing when Bulldog's eyes get squirted with oil from one of his propellers because of an overheated engine, thus winning Bulldog's respect but finishing last again.
In India, Ishani gives Dusty some advice on how to fly low through the Himalayas by following some railroad tracks. However, he is forced to fly through a tunnel and narrowly avoids a head-on collision with a steam train, but miraculously finishes first in Nepal. Dusty realizes Ishani intentionally gave him bad advice so that Ripslinger would give her one of his racing team's fancy propellers. As the race continues, Dusty manages to get into first place. In Shanghai, Dusty manages to help El Chupacabra win Rochelle over with a romantic song, which works a little too well. In the next race across the Pacific Ocean, Ripslinger's henchmen Ned and Zed, under orders from Ripslinger, sabotage Dusty's navigation antenna. Lost and low on fuel, Dusty miraculously is found by two Super Hornets who escort him to the USS "Flysenhower" (a reference to the real-life carrier USS Dwight D. Eisenhower (CVN-69)) which allows him to land and refuel. While on the carrier, Dusty sees a hall of fame set up for Skipper's squadron, but discovers Skipper only flew one mission, which contradicts his previous reputation as a veteran of many battles. He is then forced to take off in order to try and beat an oncoming storm.
Dusty gets distracted from flying due to his thoughts about Skipper and ends up crashing into the ocean but is eventually rescued. He is flown to Mexico to his friends but he is severely damaged and may never fly again. Skipper confesses to Dusty that he did indeed fly only one mission in the Pacific theatre where his entire squad of trainees was killed in an attack on the Japanese Navy. Skipper was the only survivor, but torn by his guilt, he never trained another plane or flew again. Demoralized and heartbroken, Dusty begins to consider dropping out of the race, but is encouraged by his friends, Bulldog, Ishani, and many of his newfound fans to continue and they all donate parts to have Dusty repaired.
With a change of heart and morale restored, Dusty becomes determined to win the race but Ripslinger still won't give up and plots to sabotage his chances of winning. He and his goons ambush Dusty, but are thwarted by Skipper, who overcame his guilt and came to help Dusty. When trying to catch up with Ripslinger, Dusty conquers his fear of heights when his engine starts losing power, forcing him to ride the jet stream. Both he and Ripslinger make it to the finish line in New York and when it looks like Ripslinger will win, his ego gets the best of him and slows down to have his picture taken. Dusty manages to fly above him and win the race while Ripslinger crashes into some portable toilets. Dusty is congratulated by his friends and fans and Skipper thanks him for giving him the confidence to fly again. Skipper rejoins the navy with Dusty as his partner and they take a flight together, ending the story.
Voice cast
Dane Cook: Dusty Crophopper.[7][8][9] Jon Cryer was originally cast, but dropped out.[10] He's the protagonist.
Stacy Keach: Skipper Riley,[11] Dusty's mentor and the deuteragonist.
Danny Mann: Sparky
Brad Garrett: Chug[12]
Carlos Alazraqui: El Chupacabra,[13] a Mexican plane who has a crush on Rochelle, and the tritagonist friend of Dusty.
Roger Craig Smith: Ripslinger,[16][17][18] three time champion and the leader of Team RPX. He's the main antagonist.
Julia Louis-Dreyfus: Rochelle,[17][18] a French Canadian racer bearing the number 22, and the girlfriend of El Chupacabra.
Oliver Kalkofe[21]: Franz/Von Fliegenhozen[22][15][23] (Oliver Kalkofe also voices Franz in the German version.)
John Ratzenberger: Harland, a jet tug[24][25]
Emerson Tenney: A reporter pitty[24]
Filip Watermann: Grimm
Mark Allan Stewart: Tripp
Richard Pearce: Little King
Roopashree Jeevaji: Indian Reporter[16]
TBA: Skycam 1, a red helicopter filming the race over Germany. In the United Kingdom version, he is voiced by Barney Harwood.
Characters
Dusty Crophopper
Dusty Crophopper
is a crop duster, and a famous air racing champion from Propwash Junction, Minnesota.
Dusty is a plane with high hopes—literally. Crop duster by trade, this single-prop plane sees himself soaring alongside his high-flying heroes in an international race. The fact that he's not really built for competitive racing doesn't deter him from pursuing his dream—but his fear of heights just might. With a little help from his friends—and a WWII vet with wisdom to spare—Dusty takes off on an adventure of a lifetime, going prop-to-prop with champions while daring to reach heights he never imagined possible.[28]
Dusty is first seen dreaming of out-running two fighter jets. He is introduced as a crop duster that works for Leadbottom, and dreams of competing in the Wings Around the Globe rally, but is afraid of heights. After qualifying for the competition, Dusty comes in sixth place, meaning he can't be in the competition. However, the next day, Roper comes to Propwash Junction and tells Dusty and his team that the plane ahead of him was using illegal fuel, and was disqualified, so Dusty was now eligible to compete. After meeting his racing idols, most of which were mean to him for being "just a crop duster", Dusty made friends with El Chupacabra. He was told by Bulldog that it was a competition, and that every man was in it for themselves. During the first leg, Bulldog sprung an oil leak, and the wind forced the oil into his eyes, blinding him. Dusty saved Bulldog by navigating him through the castle.
At the next leg of the race, Dusty fell in love with Ishani, who gave him advice to fly low, so he didn't get scared when flying high. Dusty followed Ishani's advice, only to nearly die by being hit by an oncoming train.
Later in one of the legs, Ripslinger's henchman Zed broke off Dusty's antenna, and he got lost at sea, but was rescued by two fighter jets. On the way back to where he should be, Dusty was caught in a storm, and sunk, but was rescued once again by a pitty. At the hospital, Dusty was severely damaged, including having a broken wing. The next day, all of the competitors gave Dusty new parts so he could race again.
While Dottie repaired him, Chug watched some of Ripslinger's races, and figured out that before every victory, Ripslinger turns to his right side so the cameras can get good photos of him. During the final leg, Dusty fought Ned and Zed, while Skipper took on Ripslinger. After Ned and Zed got stuck between each other in between two rocks, Dusty caught up to Ripslinger when he was close to the finish line, and when Ripslinger leaned to his side, and Dusty saw the chance he was looking for, and sped by Ripslinger at the last second.
At the end of the film, Skipper and Dusty were onboard the flight deck of the Jolly Wrenches ship, and the two flew over the sea, back to Propwash Junction.
He was inspired by the Air Tractor AT-502, Cessna and the PZL-Mielec M-18 Dromader.[24] He has a horsepower of 680 1/2. His wingspan is 23 feet (7 meters).
Dusty's crop sprayer is a M-5000 model.
In his turbo design, Dusty is equipped with a four-bladed Sky Slycer Mark Five propeller, and two T33 wings.
Dusty's racing number is #7, which some say is a lucky number.
Jon Cryer was originally set to play Dusty, but he dropped out. Instead, he was voiced by Dane Cook.
His flying style is keeping it nice and low, but keeping his speed up.
Skipper Riley
Skipper Riley
is an old plane that runs Skipper's Flight School.
A reclusive old Navy Corsair, Skipper was an ace flier and top instructor of the esteemed Jolly Wrenches squadron until an incident during a combat mission took him off the front lines and left him grounded for life. These days, Skipper keeps to himself, but his quiet existence is turned upside down when an ambitious and persistent Dusty solicits Skipper's aerial expertise—and gets a few life lessons in the process. But Skipper—who's never really come to terms with his past—finds that he has a few things to learn, too, and while coaching Dusty to fly faster and smarter, the teacher becomes the student.[28]
Skipper appears to be a little judgmental, as he hesitated to teach Dusty how to fly well at first. After Dusty passed qualifying however, Skipper then realized he had been a little harsh and agreed to help Dusty and his friends.
Skipper's make (F4U Corsair) and Skull and Crossed Wrenches insignia on his engine cowling are clearly based upon the World War II US Navy Figher Squadron VF-17 ("The Jolly Rogers"). Skipper even has "VF-17" stenciled on his rear fuselage.
In the Japanese trailer of Planes, Skipper was voiced by Takaya Hashi (土師孝也), but Tarō Ishida (石田太郎), the Japanese actor of Skipper, passed away from a heart attack on September 21, 2013 while Japan was producing Planes in Japanese.
For more information on the character, see here.
Ripslinger
Performer:
Roger Craig Smith
Appeared in:
Ripslinger
is the main antagonist of
Planes
. He is a black and green champion racer, who is a bully of the Wings Around the Globe racing circuit. Rude and obnoxious, he and Dusty are serious competitors, and Ripslinger will do anything to humiliate him.
With more wins than he can count and an abundance of fans, Ripslinger is wings-down the biggest name in air racing—and he knows it. But despite sky's-the-limit funding and state-of-the-art equipment, the world champion still doesn't play fair—especially when it comes to a small-town plane with zero racing experience. Dusty doesn't belong in Ripslinger's sport and his mere presence makes the pro's fuel boil. And if Dusty's inexperience doesn't take him out of the race, Ripslinger's vast empire includes a couple of underhanded sidekicks to take care of business.[28]
Ripslinger is one of the contestants in the Wings Around the Globe racing competition. One of the most legendary names in racing, Ripslinger gets his wins by simply eliminating his competition. Once Dusty, whom Ripslinger calls Rusty, enters the competition, Ripslinger continues to pick on him about being a crop duster, and not fit for racing of any kind. He usually requires assistance from his two dumbstruck sidekicks Ned and Zed, who help Ripslinger destroy the other competitors.
Ripslinger hates Dusty Crophopper, a crop-dusting plane who wants to compete in the race but is seriously afraid of heights, out of the fact that he thinks that crop dusters are not meant to race. Because of this, Ripslinger along with Ned and Zed plot to disqualify Dusty by cheating in every race. Dusty loses his second race in Germany to save a British plane named Bulldog from suffering from an oil leak, much to Ripslinger's delight. But as Dusty begins to win more and more races during the competition and falling in love with an Indian plane named Ishani, Ripslinger becomes more and more jealous of the crop duster. So as a result during a race over the Pacific Ocean, Ripslinger orders Ned and Zed to destroy Dusty's navigation antenna in order to make him lose communication from the other racers and therefore making him get lost. After he is given spare parts from the other racers including Bulldog, Ishani and El Chupacabra due to crashing into the ocean during a storm, Ripslinger and his henchplanes then try to attack both Dusty and Skipper on the way to the finish line of the final race, and once he thinks that he had finally gotten rid of Dusty once and for all, Ripslinger strikes a pose in front of the audience only for Dusty to overtake him and win the race without the villain noticing. But by the time Ripslinger knew what was going on he forgets about where he is going, he ends up crashing into some portable toilets and landing in a pile of sludge. Because of this, Ripslinger's arrogance and cruel behavior ultimately led to his downfall, and was called "Ripstinker" by Roper.
Ripslinger is based on the Racing Mustang "Precious Metal", which is a modified North American P-51D Mustang fighter with clipped wings and contra rotating propellers. He differs in having two bladed props instead of "Precious Metal's" three bladed props. He is also said to resemble a Messerschmitt BF-109, with elements of the Sharp Nemesis NXT racing plane. His wingspan is 26.2 feet (8 meters).
His propeller is a Sky Slycer Mark Five, which is only used for RPX Racing team members. It is a contra-rotating propeller with two blades on each prop.
Ripslinger is one of the Disney villains to be rude, and have a lot of pride.
Ripslinger is very similar to the character of Chick Hicks, the main antagonist from Cars. Both are villainous racing vehicles with predominantly green paint, and they both cheat the protagonists McQueen/Dusty and letting them fail in order to win the race.
13, Ripslinger's racing number, is considered an unlucky number, which is likely why it was chosen for him, and can refer to Friday the 13th. Fittingly, he causes bad things for his enemies.
His flying style is to take the lead early, and maintains pace from out in front.
He has a personal DJ to keep him relaxed, and he loves hip hop music.
He is nicknamed the "Green Tornado" throughout the racing world.
Ripslinger is voiced by Roger Craig Smith, who is the current voice of Sonic the Hedgehog and reprised him in Wreck-It Ralph. Coincidentally, both of these characters are known to be fast.
El Chupacabra
El Chupacabra
is a racing competitor in the Wings Around the Globe competition.
The intensely charming El Chupacabra is a legend in Mexico (just ask him). Powered by his passion for racing (not to mention the elusive Rochelle), this caped Casanova is anything but low-key—his booming voice and charismatic presence are as big as his oversized engine. His cohorts aren't really sure what is truth and what is delusion when it comes to El Chu, but one thing is beyond doubt: he races with a whole lot of heart and more dramatic flair than is recommended at high altitudes.[28]
He has a character song called "Love Machine", which he sings to Rochelle to woo her.
He is a Gee Bee Model R, an aircraft that dates back to the early days of air racing.[24] His wingspan is 22.3 feet (6.8 meters).
El Chupacabra is Spanish for "the goat sucker", the rumored creature believed to kill goats/sheep by biting their necks. He uses this stage name to "strike fear into his opponents".
He is the only character to have two separate eyes, but it may only be because of his mask.
He is based on a masked wrestler, complete with his mask and cape. His colors are also the Mexican flag (red/white/green).
Rochelle
Rochelle
is one of the racing competitors in the Wings Around the Globe competition, and El Chupacabra's love interest.
Rochelle is a tough racer and the pride of the Great White North. Always confident and capable, she got her start running mail to small towns in Quebec, picking up home remedies for mechanical maladies along the way. She also developed a knack for fast travel that ultimately inspired her to give air racing a try. Rochelle never looked back (this competitive contender doesn't need to). She is relentlessly pursued by charmer El Chupacabra, but steadfast Rochelle is much too focused on winning the race to return his affections.[28]
After El Chu sang his character song "Love Machine" to her, she is head over heels over him.
Rochelle's design is a combination of a LearAvia Lear Fan's fuselage, a French built Fouga Magister jet trainer's V-shaped tail, a Williams V-Jet II's cockpit windows, and a Cessna 402's wing-mounted turboprop engines.
A sponsor on Rochelle's body is Powder Propellers.
For 11 international releases, Rochelle's nationality and paint job is changed.[29] Also, in the Australian trailer, we see Dusty telling El Chupacabra, "That's Rochelle, the Australian rally champ." Most likely, this line will be different in some countries where Rochelle isn't from Canada. She was also voiced by Jessica Marais in the Australian and New Zealand versions.[30] Also, she is renamed in some versions, like "Carolina" in the Brazilian version, "Tanya" in the Russian version, "Heidi" in the German version, "Azzurra" in the Italian version, "Sakura" in the Japanese version and "Yún Yàn Fēi" in the Chinese version.

The Japanese actor of Sakura was Naka Riisa (仲里依紗),[31] while the Chinese / Putonghua actor of Yún Yàn Fēi was 昱头 (Yù Tóu).
This could also imply why Rochelle doesn't appear in Planes: The Video Game, which it is possibly because it would have been difficult to put Rochelle's changes in the international versions of the game along with her voice actresses.
Bulldog
Performer:
John Cleese
Appeared in:
Bulldog
is a British racing plane.
Bulldog has been racing longer than every other racer on the circuit. As the oldest and arguably wisest, he remembers a time before GPS, when real racers trusted their gyros and navigated by the stars. When it comes to racing, it boils down to two qualities, says Bulldog: good flying and sportsmanship. Period. While the competition secretly wonders if the aging plane is past his prime, he flies his way onto the leader board again and again, proving that this Bulldog has lost none of his bite and being Dusty's friend.[28]
Bulldog is very patriotic, stating that he doesn't cry because he is British, and is very confident in winning. Though at first he wasn't very close to Dusty, he believed Dusty could win after saving his life. Bulldog, along with the rest of Dusty's friends, gives parts to Dusty after he got damaged during a storm, demonstrating that he is grateful of Dusty saving his life.
He is a de Havilland DH.88 Comet, a British racing plane from the 30s. His wingspan is 28.8 feet (8.8 meters).
He has master tactician due to his racing experiences.
Ishani
Performer:
Priyanka Chopra
Appeared in:
Ishani
is a racing competitor that hails from India. She is Dusty's love interest.
The reigning Pan-Asian champion from India, Ishani is easy on the eyes, but ruthless in the skies. Thanks to her high-speed competitiveness and notable talent, she has amassed more than a billion loyal fans—including one rookie racer who turns to her for guidance. Exotic and mysterious, Ishani is full of surprises, but always has her eye on the prize.[28]
Ishani is a strong, spirited and talented racer. She is very focused on winning, but this does not mean that she can't care about other racers. Ishani is nice to Dusty Crophopper, and took a liking of him. Ishani was seen talking with Dusty, and he tells her about her propeller. Ishani was seen having a discussion about the next race with Ripslinger in Oil Hall. Ishani took Dusty around Taj Mahal, and gave him advice about using the railroad tracks serving as an iron compass. After Dusty got to Nepal in first place in the wake of nearly getting killed by an oncoming train, Dusty figured out that Ishani conspired against him with Ripslinger when he saw her with a Sky Slycer Mark Five propeller that was only used for Team RPX and given by Ripslinger as compensation for doing his dirty work. Dusty was so mad at Ishani for setting him up that he shuns her for it. Though later on in Mexico, she felt guilty of doing so and redeemed herself, and apologized to Dusty for doing Ripslinger's dirty work. At the end, she gave the propeller to Dusty Crophopper. It is currently unknown if they are in a relationship.
She is based on the AeroCanard FG kit aircraft, but with different front wings, a thinner nose, and without the additional side windows.[32] Her wingspan is 32.8 feet (10 meters).
In a fictional magazine within the movie called Air Sports Illustrated, Ishani was once named "Most Aerodynamic Racer".
Her flying style is a graceful at very high speeds.
Ned and Zed
Performer:
Gabriel Iglesias
Appeared in:
Ned
and
Zed
are Ripslinger's henchplanes, who help him try to disqualify Dusty from the Wings Around the Globe competition. They are the secondary antagonists of
Planes
.
Team Ripslinger's bombastic racers Ned and Zed specialize in sabotage. Lacking the skills to actually outrace the competition, they simply eliminate it, propelling boss Ripslinger to victory every single time. Zed, a rowdy and reckless flier, and Ned, a strange bird himself, may not be the sharpest props in the hangar, but they have figured out how to draft off Ripslinger's fame.[28]
Ned and Zed's designs are based on the Extra EA-300 aerobatic planes, but with the cockpit windows in a different shape. Their wingspans are 20.3 feet (6.2 meters).
Both their Sky Slycer Mark Five propellers are single two-bladed props.
Ned and Zed were making story references like David and Goliath from the Bible series, and Old Yeller.
Both are brothers from New Zealand, while the movie shows the US flags on their names.
Their flying styles are aggressive, and dangerous.
They are nicknamed the "Twin Turbos".
Ned's Micro Drifters release incorrectly labels him as Zed.
Leadbottom
Performer:
Cedric the Entertainer
Appeared in:
Leadbottom
is a grumpy plane who spends his life doing work.
Leadbottom is a bossy puttering old biplane and a grumbling taskmaster, a real "tank-half-empty" kind of guy. As the proprietor of Vitaminamulch, a special—albeit putrid—blend of vitamins, minerals, and mulch that works miracles when sprayed on crops, Leadbottom has no time for Dusty's far-fetched flights of fancy. There are too many crops to spray and not enough hours in the day to spray them. For Leadbottom, it's work first, then … well, more work.[28]
Leadbottom's design is based on a PT-17 Stearman Biplane.
Dottie
Dottie
is Dusty Crophopper's personal pitty and the co-owner of Chug and Dottie's Fill 'n Fly.
Dottie is a forklift who co-owns and operates Chug and Dottie's Fill 'n Fly service station. As Dusty's practical and say-it-like-it-is friend—not to mention his ace mechanic—Dottie hopes to keep his high-flying hopes grounded in reality: Dusty isn't built to race and chasing his dream is downright dangerous. No matter what he decides, however, Dottie will always have his back.[28]
Chug
Chug
is a fuel truck who co-owns Chug and Dottie's Fill 'n Fly.
Fuel truck Chug is a guy's guy. He works hard as co-owner of Chug and Dottie's Fill 'n Fly service station—and plays hard indulging in his own fuel from time to time. He has a big personality and is a bold supporter of Dusty's high-flying endeavors. Indeed, he's not only Dusty's buddy, he's his coach and biggest fan. And if Chug can't help Dusty reach new heights, he'll find someone who can.[28]
His fuel tank and nozzle are used to refill planes and, on one occasion, Mayday the fire truck. He is good friends with Dottie and Sparky. He is also a friend and fan of Dusty Crophopper.
Bravo and Echo
Performer:
Val Kilmer (Bravo)
Anthony Edwards (Echo)
Appeared in:
Bravo
and
Echo
are two navy fighter planes.
Armed with stellar instincts, incredible aerial abilities and outstanding service records, Bravo and Echo are two of the Jolly Wrenches' top troops. These fighter jets happen to be avid air racing fans, too, with a special affinity for Dusty, who's adopted their Jolly Wrenches insignia. And as far as the racers are concerned, it doesn't hurt to have a couple soldiers nearby should any plane falter under the immense pressure of the world's most rigorous rally.[28]
In the teaser trailer (which contains animation not in the film), both Bravo and Echo appear. After Dusty Crophopper takes off and was having a bit of trouble flying, Bravo asks Echo if Dusty will be okay. Dusty was then seen skywriting "Cool", with Echo replying that he thinks Dusty will be okay.
In the actual film, they are seen trying to get Dusty towards Dwight D. Flysenhower when he gets low on fuel and lost over the Pacific Ocean after losing his navigation antenna that was destroyed by Ned and Zed. After Dusty lands on the ship, all of the crew give him some fuel and a new antenna, and Bravo and Echo show Dusty the Jolly Wrenches Hall of Fame, and try to get to Dusty ready when he asks on the radio if it is true that Skipper Riley flew only one mission. Bravo and Echo are later seen at the end with Dusty and Skipper on Dwight as they fly together.
On Bravo's sides are the numbers "113", possibly a reference to A113, a running gag in many films including Pixar films. Also, it is Mater's license plate.
Bravo and Echo are voiced by Val Kilmer and Anthony Edwards, who both played Iceman and Goose in the movie Top Gun. Their helmet designs are also the same as the ones used by Goose and Iceman.
They are modeled after Boeing F/A-18E Super Hornets, famously shown in films like Independence Day. They are also similar to the Grumman F-14 Tomcat, famous from the movie Top Gun.
A Japanese actor named Tomomitsu Yamaguchi (山口智充) is the voice of Bravo in the Japanese version of Planes, while he voiced Mater in the Japanese versions of Cars and Cars 2.
Roper
Performer:
Sinbad
Appeared in:
Roper
is the Wings Around the Globe referee.
This irascible race official pitty delivers the rules for the North American Wings Around the Globe time trials with a matter-a-fact personality and a wry sense of humor. In fact, Roper never misses an opportunity to offer his own take on the events that unfold. With sly remarks and colorful commentary, Roper is funny but firm in his dealings with the race and the racers.[28]
Roper is a 2003 Nemomatic Forklift.
His promo image incorrectly has his eyes blue instead of brown.
Colin Cowling
Performer:
Colin Cowherd
David Croft (United Kingdom version)
Appeared in:
Colin Cowling
is the Racing Sports Network blimp.
Affable blimp Colin Cowling attended the prestigious Zeppelin Broadcasting School and began his career as the play-by-play voice for the Pacific Coast Balloon Races. He got his big break—so to speak—when his Eye-In-The-Sky-In-Sports weekly recap show was noticed by producers of Racing Sports Network (RSN).[28]
Colin is an Aaron Fullogas. His character artwork is the same of Al Oft.
He is voiced by and modeled after Colin Cowherd.
In the United Kingdom version, he is renamed Lofty Crofty and is voiced by David Croft.[27] Additionally, some of Lofty's dialogue is different to Colin's (although the Blu-ray and DVD subtitles in the UK still show Colin's lines despite being changed to show Lofty's name).

When explaining about who should be coming in second to Ripslinger, Lofty adds "the" before saying "...three-time defending champ..." Additionally, he shortens "who is" to "who's" when saying that Ripslinger is seeking to become the first four-time winner in the Wings Around the Globe.
When Colin announces the racers coming onto the runway, he says "The racers are making their way to the runway." Lofty instead says "Here come the racers onto the runway."
After the first leg starts, Colin says "The winner of the leg today is the first to take off tomorrow." Lofty instead says "The winner of today's leg will be the first to take off tomorrow." Also, Lofty says "Well" before saying "That's right, Brent."
During the Germany to India leg, Colin says "Brent, this could be Crophopper's leg, all the way." Lofty instead says "Brent, this is a leg made for Crophopper."
LJH 86 Special
The LJH 86 Special is a plane who attempted to be part of the WATG Rally, but did not make it into the Top 5 to compete.
His die-cast packaging refers to him as "86 LJH Special".
Antonio
Performer:
None
Appeared in:
Antonio
is supposedly one of the planes competing at the Wings Around the Globe rally.
He is seen in many shots of the racers throughout the movie.
Little King
Performer:
Richard Pearce
Appeared in:
Little King
is an Irish racing competitor in the Wings Around the Globe competition.
Little King is seen in many shots of the racers throughout the movie. He was selected as one of the planes on the show "World's Top Ten Air Crashes" for the Wings Around the Globe, which he was #9. When Dusty is broken and needs repairs, Little King gives him supplies.
Arturo
Arturo is an Italian racing plane.
He is a legendary champion in the history of air racing, known for victories in his home country of Italy. He is number 3 in the Wings Around the Globe racing competition.
Tsubasa
Tsubasa is a racing competitor in the Wings Around the Globe rally as racer #23.
Tsubasa's name is seen on the top of the final qualifying board, and we know he is from Japan.
Franz/Von Fliegenhozen
Performer:
Oliver Kalkofe
Appeared in:
Franz
(
Von Fliegenhozen
in plane mode) is a German Aerocar, and a huge fan of Dusty Crophopper. He is also a friend of Dusty and El Chupacabra, and hangs out with the racing competitors. He seems to change personality and voice pitch when turning into a plane.
Franz is an Aerocar, a mix between a plane and a car, in which he can function as both. His design appears to be based on the 1954 Taylor Aerocar.
Oliver Kalkofe also voiced Franz in the German version.
Brent Mustangburger
Brent Mustangburger
is an announcer for the Racing Sports Network. In
Planes
, he appears as the announcer of the Wings Around the Globe.
Brent is based on, voiced by and named after ESPN/ABC sportscaster Brent Musburger.
Brent Mustangburger is a reporter for the RSN (Racing Sports Network), which appeared prominently in Cars.
Brent is a 1964½ Ford Mustang Coupe.
His licence plate is BWM539. It represents the initials and the birthday (May 1939) of his voice actor Brent Woody Musburger.
The die-cast model of Brent has brown eyes, although Brent Mustangburger himself has green eyes.
For more information on the character, see here.
Dwight "Yorkie" D. Flysenhower
Dwight D. Flysenhower
is a
Nimitz-Class
Aircraft Carrier in the United States Navy.
Dwight D. Flysenhower carries many F/A-18E Super Hornet fighter jets, including Bravo and Echo. He also carries many Navy helicopters and Navy pitties who do various jobs, such as helping planes land, directing them to take off or land, or command the other pitties.
Flysenhower is equipped with two forward-facing catapults for helping planes to take off quickly, and has a lare net on his flight deck to help planes to land safely. His flight deck is large, and can carry fighter jets which are not taking off or landing. Flysenhower also has three elevators on the sides of his flight deck which allow planes on the flight deck to be carried to the lower decks.
In Planes, Dusty Crophopper was on the second-last leg of the Wings Around the Globe rally, where he needed to fly from China to Mexico. However, Ned and Zed broke off Dusty's GPS antenna, causing him to get lost in a storm. Running low on fuel, Dusty attempted to get to Hawaii but ended up 375 miles south of where he needed to go. Luckily, Bravo and Echo found Dusty and were able to bring him back to Flysenhower for fuel.
Inside Flysenhower's hangar, Dusty sees the Jolly Wrenches Wall of Fame. However, he notices that Skipper had only flown one mission in World War Two, contrary to the many stories he had told Dusty earlier.
Dwight is named after Dwight D. Eisenhower, the thirty-fourth president of the United States, who was previously a five-star general in the US army during World War II.
Dwight is also named after and based on the USS Dwight D. Eisenhower (CVN-69) aircraft carrier, the second of the Nimitz class aircraft carriers to enter service. Since commissioning, Dwight D. Eisenhower has participated in deployments including Operation Eagle Claw during the Iran hostage crisis in 1980, as well as the Gulf War in the 1990s, and more recently in support of US military operations in Iraq and Afghanistan. It is still in active service, and shall remain so until replaced around 2025 by the new Gerald R. Ford-class carrier USS Enterprise (CVN-80).
A similar-looking aircraft carrier resembling Dwight D. Flysenhower shows up near the end of the Cars Toons episode Moon Mater, when Mater and Lightning McQueen land in the Atlantic Ocean after rescuing Impala XIII from being stranded on the Moon. It's unknown if this carrier is really Dwight or not.
Although he is silent in the film, he seems to speak in the video game.
Mayday
Mayday is a firetruck aside from the fact that his job is to keep Propwash Junction safe in case of a fire emergency. He is a friend of Dusty and does really well with the fire-fighting. He never gets hurt, but safe.
Production
Planes is based on a concept created by John Lasseter.[34] Although Pixar didn't produce the film, Lasseter, being chief creative officer of both Pixar and Walt Disney Animation Studios, and director of Cars and Cars 2,[35] was also the executive producer of the film.[10][36] The writers made a conscious effort to not remake Cars in a new setting, rejecting ideas that were too close to ideas in Cars.[37] The team also conducted research by interviewing several pilots of plane types that were included in the movie.[37]
Lasseter had this to say about the film:
| | | |
| --- | --- | --- |
| " | We had such a great time exploring the world of Cars over the course of two films, so it seemed only natural for us to see where our imaginations would take us in a film where planes were the main characters. By expanding the Cars world, Planes gave us a whole new set of fun-filled situations and a great opportunity to introduce some fantastic new characters. The team at DisneyToon Studios has done such an amazing job creating a heartfelt story filled with great comedy, adventure, and emotion. I know audiences are going to love taking off into the wild blue yonder with these daredevil characters, as they experience a whole new kind of animated adventure.[5] | " |
On August 20, 2011 at the D23 Expo, it was announced that Jon Cryer would be the voice of the protagonist Dusty.[10][35] However, Cryer dropped out of production and was replaced by Dane Cook.[8][9][7] On February 27, 2013, the teaser trailer was re-released with dialogue from Cook instead of Cryer.[38] Jon Cryer did however receive credit for "additional story material" for the film, along with Bobs Gannaway.[39]
A new promo video was released on May 16, 2013.[40]
James Seymour Brett was originally set to write the film's score,[41] but was replaced by Mark Mancina.[42]
Release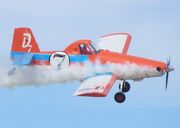 The film was first announced to be released in direct-to-video on DVD and Blu-ray in the Spring of
2013
. Disney subsequently pushed it back to Fall 2013,
[44]
while it was confirmed it would have a theatrical release in Europe.
[45]
However, completed sequences impressed Disney enough to instead plan the movie for a theatrical release on August 9, 2013,
[3]
and it then was also screened at the D23 Expo, a biennial convention for Disney fans.
[46]
It was released in the United Kingdom on August 16, 2013. The film had its premiere on August 2, 2013, at a special screening at the The Fly-In Theater at EAA AirVenture Oshkosh, an annual gathering of aviation enthusiasts in Oshkosh, Wisconsin.
[47]
Along with the special screening of the movie, Disney brought a real life Dusty to be part of the activities. The real life version of Dusty was an Air Tractor AT-400A piloted and owned by agriculture pilot Rusty Lindeman.
[43]
Planes was released on DVD, Blu-ray and Blu-ray 3D on November 19, 2013.[48][49]
Reception
Critical response
Planes received generally negative reviews from critics. The review aggregator website Rotten Tomatoes reported a 26% approval rating with an average rating of 4.6/10 based on 111 reviews. The website's consensus reads, "Planes has enough bright colors, goofy voices, and slick animation to distract some young viewers for 92 minutes -- and probably sell plenty of toys in the bargain -- but on nearly every other level, it's a Disney disappointment."[50] Another review aggregator, Metacritic, which assigns a normalized rating out of 100 top reviews from mainstream critics, calculated a score of 39 based on 32 reviews, indicating "generally unfavorable reviews".[51] However, the film earned an A− from audiences polled by CinemaScore.[52]
Peter Hartlaub of the San Francisco Chronicle gave the film two and half stars out of four, saying, "Many will enter theaters thinking this is a Pixar film, with the raised expectations that accompany that mistake. But even cynical animation fans will see there's quality here. After a little turbulence, Planes comes in for a nice landing."[53] Alonso Duralde of The Wrap gave the film a positive review, saying, "As shameless an attempt by Disney to sell more bedspreads to the under-10s as Planes is, it nonetheless manages to be a minor lark that will at least mildly amuse anyone who ever thrust their arms outward and pretended to soar over the landscape."[54] Justin Chang of Variety gave the film a negative review, saying, "Planes is so overrun with broad cultural stereotypes that it should come with free ethnic-sensitivity training for especially impressionable kids."[55] James Rocchi of MSN Movies gave the film one out of five stars, saying, "Planes borrows a world from Cars, but even compared to that soulless exercise in well-merchandised animated automotive adventure, Planes is dead in its big, googly eyes and hollow inside."[56] Michael Rechtshaffen gave the film a negative review, saying, "Despite the more aerodynamic setting, this Cars 3D offshoot emerges as an uninspired retread."[57] Jordan Hoffman gave the film one out of five stars, saying, "The jokes in Planes are runway flat, and parents will likely reach for the air-sickness bag."[58]
Bill Goodykoontz of The Arizona Republic gave the film two out of five stars, saying, "Planes was originally scheduled to be released straight to video. Although the smallest children might like bits and pieces of it, there's nothing in the movie that suggests why Disney strayed from its original plan."[59] David Hiltbrand of The Philadelphia Inquirer gave the film one out of four stars, saying, "The animated film has all the hallmarks of a straight-to-DVD project - inferior plot, dull writing, cheap drawing - perhaps because it was intended for the bargain bin at Target, Walmart, and Costco."[60] Jen Chaney of The Washington Post gave the film one and a half stars out of four, saying, "This film is 100 percent devoid of surprises. It's the story of an underestimated underdog that's like every other kid-friendly, life-coachy story about an underestimated underdog."[61] Rafer Guzman of Newsday gave the film one and a half stars out of four, saying, "If Planes were a reasonably priced download, you'd gladly use it to sedate your kids during a long car ride. As a theatrical, 3-D release, however, Planes will sedate you, too."[62] Neil Genzlinger of The New York Times gave the film two out of five stars, saying, Planes is for the most part content to imitate rather than innovate, presumably hoping to reap a respectable fraction of the box office numbers of Cars and Cars 2, which together made hundreds of millions of dollars."[63]
Lou Lumenick of the New York Post gave the film two and a half stars out of four, saying, "Often less really is more, and that's why I can recommend Planes, a charmingly modest low-budget spin-off from Pixar's Cars that provides more thrills and laughs for young children and their parents than many of its more elaborate brethren."[64] Bruce Demara of the Toronto Star gave the film two and a half stars out of four, saying, "While the plotting is rather pedestrian, the humour mostly lame, what makes Planes a stand-out experience - not surprisingly, based on Disney's vast and impressive history of animated classics - is the visuals."[65] Claudia Puig of USA Today gave the film two out of four stars, saying, "It's engaging enough, driving home the familiar message of following one's dreams and the less hackneyed theme of facing one's fears. But it feels far too familiar."[66] Betsy Sharkey of the Los Angeles Times gave the film two and a half stars out of four, saying, "As with Cars, the world of Planes feels safe. A little too safe, perhaps."[67] Richard Roeper of the Chicago Sun-Times gave the film a C, saying "Planes moves along quickly at a running time of 92 minutes, occasionally taking flight with some pretty nifty flight sequences. The animation is first-rate, and the Corningware colors are soothing eye candy."[68]
Tom Keogh of The Seattle Times gave the film two and a half stars out of four, saying, "Though not officially a Pixar production, the new Planes — released by the beloved animation studio's parent company, Disney — has the look and feel of Pixar's 2006 hit, Cars, if not the latter's charm or strong story."[69] Stephen Whitty of the Newark Star-Ledger gave the film two out of four stars, saying, "It's strictly by the numbers, from the believe-in-yourself moral to the purely predictable ending."[70] Owen Gleiberman of Entertainment Weekly gave the film a B, saying, "What Planes lacks in novelty, it makes up for with eye-popping aerial sequences and a high-flying comic spirit."[71] A. A. Dowd of The A.V. Club gave the film a D+, saying, "Planes cuts corners at every turn, a strategy that leaves it feeling like the skeletal framework of an incomplete Pixar project."[72] R. Kurt Osenlund of Slant Magazine gave the film one out of four stars, saying, "The film feels second-rate in every sense, from the quality of its animation to its C-list voice cast."[73] Dave Calhoun of Time Out gave the film three out of five stars, saying "Planes isn't a Pixar film, even if it's related to one (Disney bought Pixar in 2006), and there's nothing groundbreaking about the animation or script. That said, the characters and story still offer low-key charms."[74]
Box office
Planes grossed $90,288,712 in North America, and $129,500,000 in other countries, for a worldwide total of $219,788,712.[75] The film opened to #3 in its first weekend, with $22,232,291, behind Elysium and We're the Millers.[76] In its second weekend, the film dropped to #4, grossing an additional $13,388,534.[77]
Rating
Planes is rated PG by the MPAA "for some mild action and rude humor", making it the first film in the Cars franchise to get this rating.[78] It is also DisneyToon's second movie to get a PG rating, after Lilo & Stitch 2: Stitch Has a Glitch.
Unlike America, Planes had received a lighter rating in other countries. In the United Kingdom, the film has received a U rating by the BBFC. In Ireland and Canada, the film is rated G.[79] The rating is rather shocking when compared to Cars 2, which was more action-packed, had a ruder sense of humor, and having a large body count of destroyed vehicles.
Marketing
To create a transition between Cars and Planes, Disney launched a product collection called "Cars Take Flight", which focuses on releasing merchandise for Cars Toons episodes Moon Mater and Air Mater.[80] The line features die-cast, race tracks, games and books. A "Cars Take Flight" event was held on September 14th, 2012 at the Chicagoland Speedway.[81] A "Cars Take Flight" official website launched a contest whose prize was a vacation to Cars Land.[82]
Mattel has also started a Planes Die-cast line which was displayed at the San Diego Comic-Con 2013: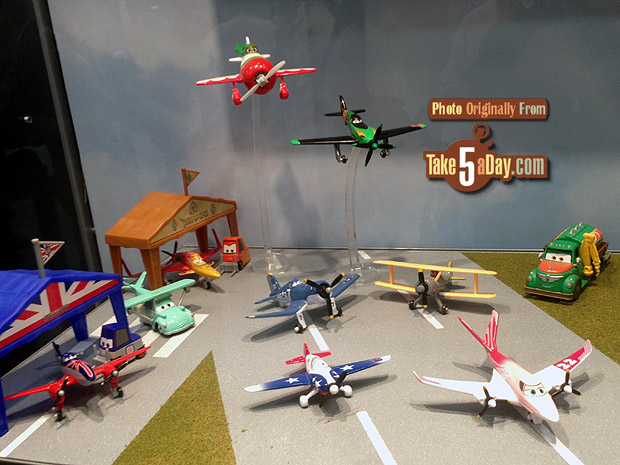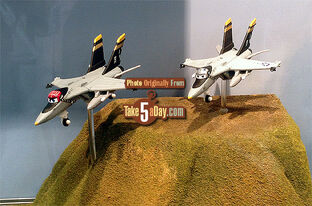 Racing Dusty Crophopper
Turbo Dusty
Jolly Wrenches Dusty Crophopper
Skipper Riley
Leadbottom
El Chupacabra
Ishani
Ripslinger
Bravo
Bulldog
Chug
Echo
Rochelle
Rochelle French
Franz/Von Fliegenhozen
Ned
Zed
Arturo
LJH 86 Special
Hector Vector (coming soon, in 4-Pack with Navy Dusty Crophopper, Bravo and Echo)
To celebrate the release of the film in the United Kingdom, the 2013 Camp Bestival featured a world record attempt for the most paper aeroplanes flying at once.[83] Also, David Croft (the voice of Lofty Crofty in the UK version) and Gabz (from Britain's Got Talent) promote the film by flying in planes with the movie logo, with Croft also showing some of his recording for the film.[84][85] Pre Skool and Nu Sxool were also invited to the premier of Planes in Leicester Square. They were asked to make a dance routine to one of the songs from the film called "The Planes Dance". The video is a great success.[86]
Soundtrack
Soundtrack 
Planes
Composer 
Mark Mancina
Released 
August 6, 2013
Label 
Walt Disney Records
Catalogue no. 
The
Planes Soundtrack
was released on August 6, 2013, around the same date as the movie, and features 29 songs and scores from the movie.
[87]
[88]
The scores are composed by Mark Mancina.
Tracks
Nothing Can Stop Me Now - Mark Holman
You Don't Stop - NYC - Chris Classic and Alana D
Fly - Jon Stevens of The Dead Daisies
Planes (score)
Crop Duster (score)
Last Contestant (score)
Hello Lincoln/Sixth Place (score)
Show Me What You Got (score)
Dusty Steps Into History (score)
Start Your Engines (score)
Leg 2/Bulldog Thanks Dusty (score)
Skipper Tries to Fly (score)
Dusty & Ishani (score)
The Tunnel (score)
Running on Fumes (score)
Get Above the Storm (score)
Dusty Has to Ditch (score)
Skipper's Story (score)
You're a Racer (score)
Leg 7 (score)
Skipper to the Rescue (score)
Dusty Soars (score)
1st Place (score)
A True Victory (score)
Honorary Jolly Wrench (score)
Skipper's Theme (Volo Pro Veritas) (score)
Love Machine - Carlos Alazraqui and Antonio Sol
Ein Crop Duster Can Race - Dave Wittenberg
Armadillo (score)
Video Game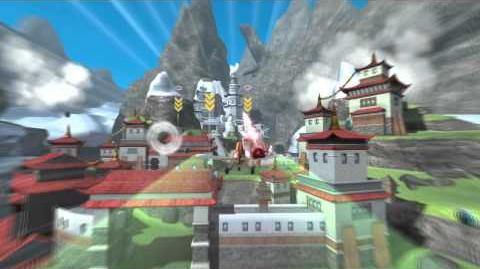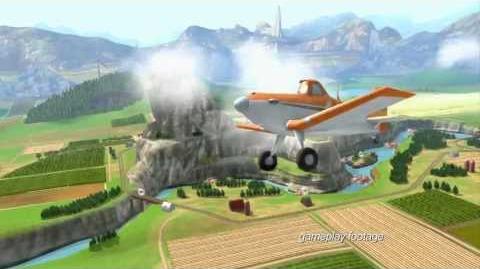 Disney Interactive released
Planes: The Video Game
on August 6, 2013. It was released on the Wii, Wii U, Nintendo DS and Nintendo 3DS.
[89]
Gameplay
The game is set up with different missions, so players can play as one of the characters to complete them while avoiding obstacles and any other conflicts throughout the levels.
High-flying escapades await with the video game follow-up to the new Disney animated film Planes. Join big-hearted, speed-loving crop duster Dusty on adventures through the air with fellow characters Ishani, Echo and Bravo for action-packed fun you'll instantly want to share with your friends. Grab your Nintendo Wii Remote and prepare for challenging global missions, thrilling air races and grand adventures around the world. When you're a plane, even the sky isn't the limit.
Get to know 10 characters from the film and play as each one when you travel to 10 breathtaking, captivating environments inspired by the film, from Propwash Junction to the exotic lands of China. It's up to you to complete every mission-based objective that lies ahead of you — all packed with entertaining adventure and exhilarating exploits — including racing missions. Experience all four modes of gameplay, including Story, Balloon Pop, Free Flight and Air Rallies, for high-flying fun that will have you on the edge of your seat. Share the amazing experience with a friend in drop-in, drop-out co-op gameplay that lets a buddy play as any of the characters featured in the game. So strap yourself in and take to the skies with all of your favorite Disney's Planes characters.
Sequel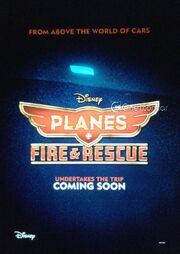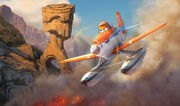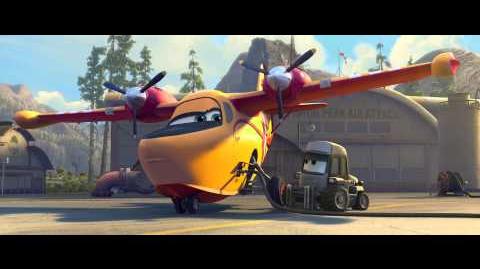 DisneyToon Studios is also working on a sequel called
Planes: Fire & Rescue
.
[90]
It has been confirmed by Carlos Alazraqui that the
Planes
series will be a trilogy.
[16]
Instead of publishing an
Art of
book for the first film, Chronicle Books will publish
The Art of Planes 1 & 2
to coincide with the release of the sequel.
[91]
The sequel was originally titled with the "2", but on June 13, 2013, it was removed from the title. It was also announced to have a 3D theatrical release on July 18, 2014.
[92]
[93]
Its plot, as well as a concept art, was revealed at D23 Expo.
[94]
"
Planes: Fire & Rescue
features a quirky crew of elite firefighting aircraft devoted to protecting historic Piston Peak National Park from a raging wildfire. When world famous air racer Dusty (voice of Dane Cook) learns that his engine is damaged and he may never race again, he must shift gears and is launched into the world of wildfire air attack. Dusty joins forces with veteran fire and rescue helicopter Blade Ranger and his courageous air attack team, including spirited super scooper Lil' Dipper (voice of Julie Bowen), heavy-lift helicopter Windlifter, ex-military transport Cabbie and a lively bunch of brave all-terrain vehicles known as The Smokejumpers. Together, the fearless team battles a massive wildfire, and Dusty learns what it takes to become a true hero." It was also announced that the director will be Bobs Gannaway, and the producer will be Ferrell Barron.
[95]
According to an interview with Gannaway and Barron, the characters Chug, Dottie and Skipper Riley are scheduled to return in the sequel,
[96]
though it is unknown if Brad Garrett, Teri Hatcher and Stacy Keach will reprise their roles. Mark Mancina has also been confirmed to again compose the music for the film.
[97]
Curtis Armstrong was also confirmed for an unknown role.
[98]
Besides the Planes series, DisneyToon is considering to make more spin-offs that would feature other vehicles like boats and trains, and which may go into production if Planes is well received.[99][100] John Lasseter said: "I kept thinking about—I'm a big train fanatic. I love trains. And I started thinking about trains, and boats and airplanes. And I kept wanting to have more and more of those type of characters. [...] It's one of the ideas, that there will be an ongoing series. It almost starts getting into this thing where we fall in love with these plane characters, we want to see more and more stories with them. And then you start doing other vehicles and stuff like that. Yeah. So it kind of is a bigger idea that can keep expanding."[101]
Trivia
The Cars Toons episode Air Mater introduced elements of Planes, including Propwash Junction, Dusty's hometown;[1] Skipper, his mentor; and Sparky, Skipper's assistant. Mater drops an allusion to Planes at the end of the short as he says that "They oughta make a whole movie about planes" and looks directly at the camera.
Planes takes on some of Pixar's traditions. Like both of the installments of the Cars franchise, it features reporters of the Racing Sports Network covering its sportive event. It also includes a cameo of John Ratzenberger, who has had a voicing role in all of Pixar's films.
While the film is focusing on planes, there are cars involved in the movie, and some can be seen in the stands of one of the races.
This is the first DisneyToon film to be a successor to a Pixar film. Previous productions focused on mainly Disney properties.
On July 14, 2013, Disney Channel held a "Night of Flight" event, featuring sneak peeks at new characters from the movie, during its "Night of Premieres" lineup, which included all-new episodes of its programs.
When Dusty explains to Skipper about wanting to prove of being more than just a crop duster, one of the Cars 2 Porto Corsa vintage artworks can be seen on the wall.
Goofs
In one of the stories in the World of Cars book, the Statue of Liberty is a Ford Model T. But in this film, it's a forklift.
The designs of the world landmarks (such as the Taj Mahal - ताज महल, and the Great Wall of China - 万里长城) do not resemble how they do in the credits at the end of Cars 2, as they were car-ified in that film. But here, they're plane-ified.
Yellow Bird seems to have his number changed in different parts. The qualifier leaderboard and Yellow Bird's tent as well as his appearance in the Germany to India leg show his number as 17. In New York and on the leaderboard at the start of the China to Mexico leg, his number is 1.
When Dusty and Ripslinger are talking to each other at the pit row in New York, Little King is seen behind Dusty. When Dusty explains to the racers about El Chupacabra, Little King is in his tent. However, it could be that Little King drove to his tent during the close-ups of El Chu.
When Dusty explains to El Chupacabra about Rochelle before the New York to Iceland leg begins, the "D7" and Jolly Wrenches insignia on Dusty are missing.
When Dusty is escorted by Bravo and Echo to Dwight D. Flysenhower, his GPS antenna that Zed broke off is back on. It then disappears after they reach the Flysenhower.
When the camera moves around the Flysenhower at the end of the film, there is a barrier fully surrounding the aircraft elevator/lift with Dusty and Skipper. In the close-up (when the elevator reaches the flight deck), the barrier has disappeared. The barrier should only retract into the deck of the lift once it reaches the flight deck (and not before), as it's to stop people and aircraft going over the edge.
Gallery
Posters
Screenshots
Character Images
International
Storyboards
Videos
External Links
References
↑ 15.0 15.1 15.2 New Images and Full Voice Cast for PLANES Announced; Includes Val Kilmer, Anthony Edwards, Julia Louis-Dreyfus, John Cleese, and More (UPDATED)
↑ 17.0 17.1 17.2 17.3 17.4 17.5 17.6 17.7 17.8 Look! Up in the sky! It's an exclusive peek at 'Planes'!
↑ 18.0 18.1 18.2 18.3 18.4 18.5 18.6 18.7 18.8 The Cast of Planes Revealed with 14 New Character Images
↑

[disney-quot-planes-quot-world-premiere.aspx World premiere of Disney "Planes" turns Hollywood Boulevard into a celebrity-filled landing strip]

↑ 28.00 28.01 28.02 28.03 28.04 28.05 28.06 28.07 28.08 28.09 28.10 28.11 28.12 28.13 'Planes' Official Character Descriptions, Casting and Character Poses (Hi-Res)
↑ More Disney Release Dates: Two New Marvel Pics, 'Alexander', 'Hundred-Foot Journey', 'Into The Woods', 'Planes' Sequel Slotted