Animated Talking Mr. Potato Head with Part Popping Action (Toy Story Collection)
Talk

0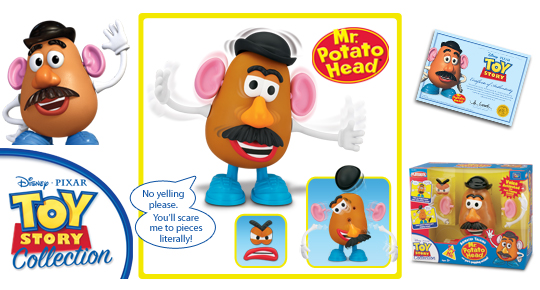 A Mr. Potato Head replica produced by Thinkway Toys was released in March 2010 as part of the second wave of the "Toy Story Collection" line to promote the theatrical release of Toy Story 3
Description
Has detachable eyes with eyebrows, ears, nose with moustache, mouth, arms and hat.
Press his hat for classic Mr. Potato Head banter.
When he speaks all of his parts move (including his body).
He also reacts to the sound of your voice. Loud noises activate his POP OFF Action: All of his parts come right off (except for his his mouth).

00:31

Toy Story Mr Potato Head

Press the button on his back for manual pop off action.
Includes 2 sets of eyes and mouths for happy and angry facial expressions.
Includes a Toy Story Collection Certificate of Authenticity.
Original Voice.
==
Innacuracy
Mr. Potato Head's eyes are connected.
Mr. Potato Head's legs are thicker, longer, and don't come off.
Mr. Potato Head Doesn't have any extra shoes.