La Luna
Talk

6
2,010pages on
this wiki
Directed by:
Enrico Casarosa
Written by:
Enrico Casarosa
Release date:
June 6, 2011
Running time:
6 minutes, 53 seconds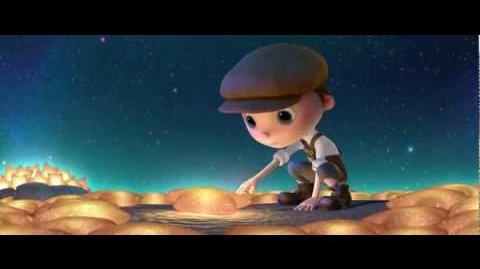 La Luna is a Pixar short film that was released with the theatrical release of Brave.[1] The short originally premiered at the Annecy International Film Festival, which took place in France on June 6-11, 2011. Enrico Casarosa makes his directorial debut on the short, as well as the writing.[2] The music is composed by Michael Giacchino.
Plot
"La Luna is the timeless fable of a young boy who is coming of age in the most peculiar of circumstances. Tonight is the very first time his Papa and Grandpa are taking him to work. In an old wooden boat they row far out to sea, and with no land in sight, they stop and wait. A big surprise awaits the little boy as he discovers his family's most unusual line of work. Should he follow the example of his Papa, or his Grandpa? Will he be able to find his own way in the midst of their conflicting opinions and timeworn traditions?"[2]
Voice cast
Production
Development
The story was inspired to Enrico Casarosa by his childhood by the sea in Genoa, Italy and the experience of his father and grandfather that couldn't support each other, rarely speaking to one another.[5]
The main influences were The Little Prince and Miyazaki's work. The Distance of the Moon from Italo Calvino inspired the base of the story. The gibberish of the protagonist of La Linea by Osvaldo Cavandoli was another influence.[5]
Enrico Casarosa first thought having no mouths on characters would make it simpler to animate. But finally the animators struggled to get the hair effects correctly, and to have believable speech effects on them.[5]
The team wanted to use as much as possible of real, non-computer-generated material in the short. Therefore, watercolor and pastel are massively used for textures. All backgrounds are pastels.[5]
Marketing
The short was
announced
by Pixar, in
Pixar's official Facebook Page
, on May 5, 2011. A first look image was also released in Pixar's official Facebook page.
Awards
Nominated: Academy Award for Best Animated Short Film
Nominated: Annie Award for Best Animated Short Subject
Won: International 3D Society Award for Short 3D Motion Picture/Narrative
Trivia
"La Luna" translates to "the Moon" in Italian and Spanish.
The father bears a resemblance to Tim Lockwood from Cloudy with a Chance of Meatballs. According to Casarosa, it was pure coincidence, and furthermore said his inspiration was the miner from Miyazaki's Castle in the Sky. [5]

Their similarities include bushy eyebrows covering the eyes, baldness, and when they are surprised or impressed, their eyebrows raise, revealing their eyes.
Gallery
References
↑ 5.0 5.1 5.2 5.3 5.4 Desowitz, Bill. "First Look at Pixar's La Luna". Animation World Network. http://www.awn.com/articles/article/first-look-pixars-la-luna/page/1%2C1

. Retrieved 15 June 2011

.