Disney Infinity
Talk

2
1,921pages on
this wiki
Developed by:
Avalanche Software
Published by:
Disney Interactive
Namco Bandai Games (Japan)[1]
Microsoft Studios (Xbox 360, Windows)
Platforms:
PC (Downloadable Toy Box), Xbox 360, PlayStation 3, Wii, Wii U, 3DS, iPad (Downloadable Toy Box)
Release date:
August 18, 2013 (PS3, Xbox 360, Wii, Wii U, 3DS)
November 14, 2013 (PC)
September 18, 2013 (iPad)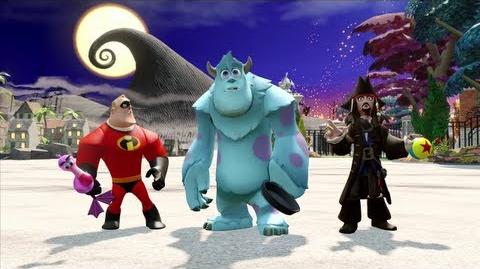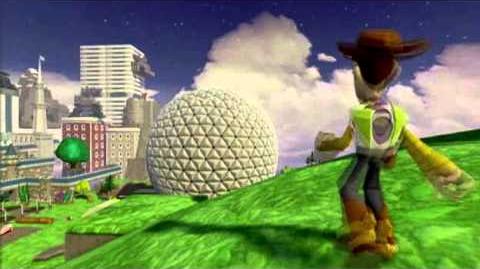 Disney INFINITY
is a video game from Disney Interactive Studios that was released on August 18,
2013
.
[2]
[3]
[4]
Similar to the 
Skylanders series
, the video game uses collectible figurines that are then synthesized within the game, allowing characters from both Disney and
Pixar
properties to interact witin the world, complete levels and create worlds. There were rumors of discussions to use characters from other properties owned by Disney such as the Marvel Universe and
Star Wars
,
[5]
who are reported to be in development.
[6]
[7]
The game was released for Wii, Xbox 360, Wii U, PlayStation 3 and Nintendo 3DS. A portable Toy Box was also released exclusively for the iPad, along with another app for mobile devices called Disney Infinity: Action!, where you can edit the characters into your own personal videos. A version of the Toy Box is also available for the Microsoft Windows personal computer. The PC and iPad versions of the Toy Box utilize the web codes included with each Disney Infinity character.
It was released on August 20 overseas, and August 23 in the United Kingdom.[4]
Gameplay
The game has the player place their Disney Infinity Figures onto the circular spots of the Disney Infinity Base to jump into the game and come alive in a fully animated interactive world. With the exception of non-humanoid characters such as those from the Cars series, each character has a double jump and a default set of attacks, as well as an ability unique to each figure. For example, Sulley can roar to scare others whilst Violet and Randall can turn invisible. There are two main modes in the game: Play Set and Toy Box.[8]
Play Set Mode has Disney Infinity play sets of films which are accessed via placing the relevant play set piece onto the hexagonal spot of the Infinity Base. The player takes control of characters and plays as them in original adventures in different worlds. In these worlds, the player battles enemies, solves puzzles, overcomes obstacles and completes a variety of other unique quests. Each play set is essentially a self-contained world, based on a specific movie or series with recognizable characters, gameplays and storylines. Characters from one world cannot enter into another world, but players can put any character together in Toy Box Mode. Playing through the play sets unlocks objects and vehicles that can be used in the Toy Box Mode.
Toy Box Mode allows the player to create their own world and stories, similar to Toy Box Mode in Toy Story 3: The Video Game. It also allows the player to mix and match everything that is unlocked within the play sets including characters, weapons and gadgets. There are various "adventures" in this mode, which help teach the player how to use the mode's tools. Players can also earn "spins", which can be used to unlock additional items in the Toy Box, by playing through play sets as well as the "adventures" for the first time, or leveling up their characters.
The game has a two-player mode, and four players can play online. This also enables players online to play around with items that only the other player has, albeit only during that session. The player can also add new Disney Infinity Play sets and Figures, or take their Disney Infinity experience to a whole new level with Disney Infinity Power Discs - an all new way to unlock character powers, fun gadgets and new ways to customise their world.
Other versions
The following versions differ from the Xbox 360, PlayStation 3, Wii U and PC versions of the game.
Wii version
Due to the space limitations of the Wii platform, some design decisions had to be made in the game. The gameplay does not have online play or multiplayer in Play Sets, but there is multiplayer in Toy Box.[9] That means: smaller play set worlds, no downloadable or shareable toy box worlds. Toy Box version has only 6 different Toy Box Worlds, each with different toys and tools.[10]
Nintendo 3DS version
Different from the console and PC versions, the Nintendo 3DS version of the game is a party game, in which up to four players play on various themed game boards and participate in various minigames. The Toy Box mode can be used to create new game boards. This version uses its own Infinity Base, which has only one character slot compared to the console version, and connects to the 3DS wirelessly.[11]
Xbox One, PlayStation 4 potential
Avalanche Software states Disney Infinity toys will be supported on Xbox One and PlayStation 4 consoles, and future next generation versions of Disney Infinity will likely result in a game that will be "way more beautiful," offer "a whole lot more" content, "or both."[12] Disney Interactive Studios has not confirmed development, and no release date(s) have been set for potential Xbox One and/or PS4 versions.
Pixar Characters
This is a list of Pixar characters who appear in the game, according to the trailer, videos, concept art and accessories.[13][14]
The Incredibles
Brave
Monsters, Inc./Monsters University
Toy Story
Cars
Power Discs
Power Discs can be bought in blind bags for $5.99. A random one is available in the Starter Pack.
There are two types of power discs: circular and hexagonal. Circular power discs are placed under a character to enable the effect it has. Hexagonal power discs can be placed in the hexagonal slot on the base, where a play set piece would be, to enable that effect to your character. Hexagonal power discs are only available for use in the Toy Box.
Reception
Disney Infinity received mostly positive reviews from critics. It received a 74 and 75 out of 100 on review aggregrator site Metacritic, for PlayStation 3 and Xbox 360 respectively.[15][16]
The sandbox mode, namely the Toy Box Mode, received much praise. Steven O'Donnell of Good Game: Spawn Point stated that "it's a bit like Minecraft in that you're dropped into an open world that you can then build some pretty spectacular structures in."[17] Kevin VanOrd of GameSpot called the Toy Box "a gleefully entertaining shared space," and greatly preferred it over the story mode.[18]
The figurines of the playable characters received mixed to positive reactions. Daniel Krupa of IGN said that they're "well-made statues," and that "each one really captures the personality of that character with a charismatic stance."[19] The soundtrack and dialogue of Disney Infinity also received mixed reactions. Andrew Reiner of Game Informer said that "characters repeat dialogue way too often," and that the soundtrack is "often surprisingly absent."[19] Andy Robertson of Forbes stated that his children loved playing the figurines, both in the game and as toys.[20]
The overall price of the game and all of the toys received media coverage. Jeff Cork of Game Informer said that to purchase all items at the launch (the game, all launch toys and power discs) it costs a minimum of AUD$460.[21] Kevin VanOrd of GameSpot called Disney Infinity "a platform designed to keep you spending money."[18] Nick Cowen of The Guardian warned parents to "get ready with those wallets."[22]
In September 2013, Disney revealed that the game had sold 294,000 copies in the United States during its first two weeks on sale.[23]
On October 18, 2013, Disney Interactive announced that the game had sold more than a million copies worldwide. With more figures not yet released, Disney hopes the number of units sold will continue to grow.[24] As of January 20, 2014, three million starter packs have been sold.[25]
Trivia
Gallery
Videos
External Links
References
↑ "Dragon vs. Mouse" Cork, Jeff Game Informer, 24 August 2013