Ball
Talk

22
1,922pages on
this wiki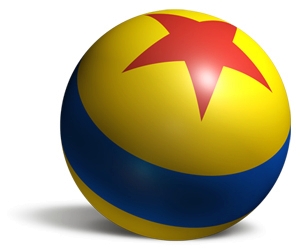 A yellow ball with a blue stripe and red star known as the
Luxo Ball
(aka
Pixar Ball
) first appeared in the
Luxo, Jr.
short as a prop for
Luxo, Jr.
Since its debut, it has made several cameos in other Pixar films, most prominently in the
Toy Story
films.
Appearances
Advertising
In the double feature trailer for Toy Story and Toy Story 2 in Disney Digital 3-D.
Toy Story 3 posters and teasers.
In the 2011 State Farm commercial (at 0:14) on some of the "pet" trains.
Non-Pixar appearances
The New Adventures of Winnie the Pooh
Creature Comforts (green star)
Blue's Clues (red stripe and blue star)
Rugrats (green with orange star)
Garfield comic strips
Lilo & Stitch
Mickey Mouse (2013 TV series)
Trivia
Gallery